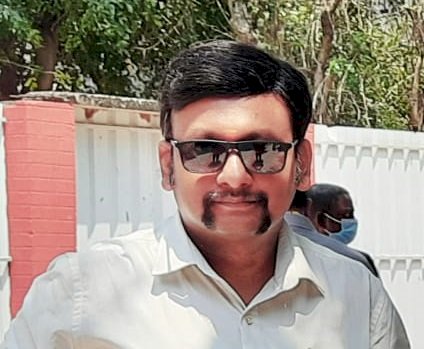 Dr. P.K.Praveen Kumar
Associate Professor and reputed bioinformatician at Sri Venkateshwara College of Engineering
Dr. P.K.Praveen Kumar is an experienced Associate Professor and reputed bioinformatician with a demonstrated history of teaching in the Biotechnology field for 18.5 years in reputed Engineering colleges in and around Chennai. He has registered for Ph.D Supervisorship in Anna University and is willing to do consultancy services on drug design & development, vaccine design & development for virus and cancer diseases. He works on bioinformatics tools including machine learning & AI, cheminformatics tools and wet lab experiments on HPLC, ELISA,
FACS, FTIR and small animals handling experiments.
International Recognition
He has published 24 papers on "Drug and Vaccine design" topics in reputed Journals like Scientific reports (Nature Publishers), Mini-Reviews in Medicinal Chemistry (Bentham Science Publishers), Combinatorial Chemistry and High-throughput Screening (Bentham Science Publishers), Informatics in Medicine Unlocked (Elsevier Publishers), Pharmacognosy Magazine (Medknow Publishers), Pakistan Journal of Pharmaceutical Sciences (Karachi Publishers). He has published three book chapters in Bentham Science Publishers. He has received Coursera Certifications on Healthcare and Precision medicine, Genomics technologies, Drug discovery, Immunology, COVID-19 Contact Tracing and R-programming from The University of Edinburgh (UK), John Hopkins University (US), UC San Diego (US), Rice University (US) & John Hopkins University (US). He is serving as an Executive Guest Editor for Combinatorial Chemistry and Highthroughput Screening Journal (UAE), Mini Reviews in Medicinal Chemistry Journal (UAE) and Medicinal Chemistry Journal (UAE) and Current Pharmaceutical Technology (UAE). He is an active Peer reviewer in Archiv der Pharmazie (Germany), Current Pharmaceutical Biotechnology (Italy), Journal of Biomolecular structure & dynamics (USA), Letters in Drug Design & Discovery (USA), Current Computer-Aided Drug Design (USA), Global Journal of Medical Research (USA), ScienceAsia Journal (The Science Society of Thailand), International Journal of Computational and Theoretical Chemistry (USA), Science Research (USA), Pakistan Journal of Pharmaceutical Sciences (Pakistan), Journal of Pharmacy and Pharmacology (UAE), Phytotherapy Research (Italy), Molecular Medicine Reports (Spain). He has received young scientist travel grant awards from CSIR (GoI) and ICMR (GoI) to present paper on International Conference held in Kula Lumpur (Malaysia).
National Recognition
He has conducted many workshops, STTPs, FDPs, seminars, webinars, certificates courses with funding sponsored from DBT, AICTE, CSIR, and ICMR. He has received Mentorship award from Office of the Principal scientific advisor (Government of India (GoI)), Ministry of Education (GoI), MoE's innovation cell, CSIR (GoI), AICTE (GoI) for successfully mentoring students in Drug Discovery Hackathon'2020 event for the academic year 2020-21 resulting in Internship for student's outcome worth of Rs. 3.6 Lakhs. He has received Best Researcher Award category from 12th and 11th International Scientist Awards 2020 from VDGood Organization, India. He has received project grant from TNSCST (Govt. of Tamilnadu) and has done many educational consultancy projects for Tata Institute of Social Sciences (Mumbai. He has provided guest lectures for sponsored workshops on "Drug and Vaccine design" for Vellore Institute of Technology (Vellore), Sri Ramakrishna Engineering College (Coimbatore), Institute of Innovations (Tiruvanamalai), BIHER (Chennai), Madha Engineering College (Chennai), Kamban Arts & Science College (Tiruvanamalai). He is Pharmacologist and Biopharmaceutical Scientist member in Institutional Human Ethical Committee and Insitutional Animal Ethical Committee in SVCE.
Contact Details:
Email:
info@akthealth.com
Topic
Identifying covalent spike protein inhibitors to control the infection of SARS-CoV-2 from small molecule databases.